Alice Lau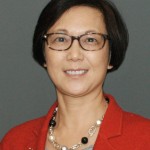 Alice Lau was born and raised in Hong Kong and has been a California resident since the '70s. She moved to Rossmoor in 2011 after retiring from a long and fulfilling career with Chevron. Trained in mathematics and computer science, she held various management and project leadership positions in the IT field. During her career, she has undertaken a couple of assignments in China and Indonesia.
An active supporter of non-profit causes, Alice is certified in non-profit organization management. She has served for three years as a member of the Golden Rain Foundation Board of Directors, the governing body of Rossmoor, a community of almost 10,000 residents. She also served as the board secretary, member of the technology team, and the compensation committee chair. Alice's capacities with the Rossmoor Fund include vice president, nomination committee chair, finance committee member, and first contact for grant requests.
Alice is a proud mother of two, her daughter, a public school administrator and her son, a US Army major. She also has twin grandchildren. She enjoys travels and has visited all seven continents.